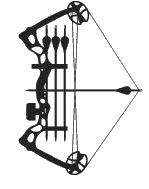 Attention 3D Archers help is needed to plan and help for the
2023 3D Archery Events.
The first weekend in August will be our last shoot for this year.
​
If you would like to help and see a shoot scheduled in late September next year before hunting season go to the Contact Tab and fill out the form.
Archery Range is for Members Only and their guest.
There are multiple designated distance targets, scoring towers, and 3D Shoots available.
​​
3D Archery Shoots are open for Public participation.
​
The club's archery range is open seven (7) days a week. Non-members may use the range during public archery events such as 3D Archery Shoots.
Broadhead arrows and arrow inserts are not to be used on the Archery Butts or 3D Targets.