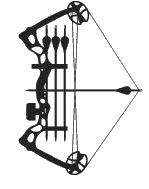 Attention 3D Archers help is needed to plan and help for the
2023 3D Archery Events. The first weekend in August was our last shoot for this year. If you would like to help and see a shoot scheduled in late September next year before hunting season go to the Contact Tab and fill out the form.
Archery Range is for Members Only and their guest.
There are multiple designated distance targets, scoring towers, and 3D Shoots available.
​​
3D Shoots are open for Public participation.
​
The club's archery range is open seven (7) days a week. Non-members may use the range during public archery events such as 3D Archery Shoots.
Broadhead arrows and arrow inserts are not to be used on the Archery Butts or 3D Targets.
3D Archery Shoots are scheduled during the summer months. These shoots are open to the public.
Cross bows are allowed for the shoot.
​
The course is laid out in covered forest and open grass areas. Targets are located level ground and hills. Shots are made on steep hills, both uphill and down. There is a southern course and a northern course with a total of 30 Reinhart Targets ranging in size from skunk to moose.
Contact Evan Diedrich at 815-590-0212 for more information or if you can help setup targets.
Target setup day is the [Friday] before each weekend shoot.
​
​
3D Archery Target Shoot Dates
June 4 8AM to 4PM
June 5 8AM to 12PM
July 2 8AM to 4PM
July 3 8AM to 12PM
August 6 8AM to 4PM
August 7 8AM to 12PM